"A steadfast adherence to Form, Type and Temperament"
What a Thrill to be making Breed History AGAIN!!
… with CH Averson Rock N Roll aka "Rocky" going Best of Breed from the classes at the 2022 Portuguese Podengo Pequenos of America National Specialty under judge: Mr. Michael Canalizo…

… and Best in Sweepstakes under breeder/judge: Susan Carter. BOS in Sweepstakes was Averson Tell Me No Lies aka "True".
What a day! What a Thrill!!!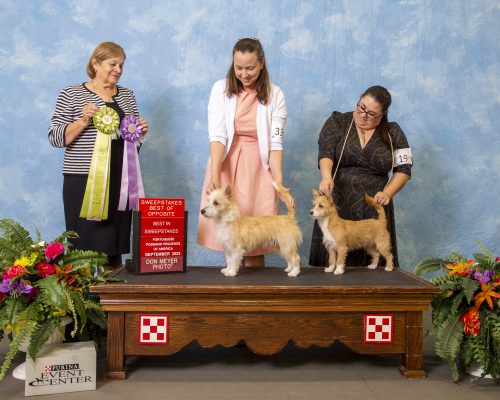 … and 3 Generations of PPPA National Specialty Best of Breed Winners!

2013
GCHG Pirata II de Viamonte
Owners: Jean A Evanoff & Karen Oglesby
Handled by: Karen Oglesby
Judge: Dr. James D Sellers
2015
GCHS Anevan The Captain JC
Owners: Susan Souza & Jean A Evanoff
Handled by: Susan Souza
Judge: Mr. Douglas A Johnson
2017 and 2020
GCHG Bonsai Noble Adventurer
Owners: Giselle Simonds & Adrian Ghione
Handled by: Adrian Ghione
2017 Judge: Ms. Lori L Nelson and 2020 Judge: Ms. Stacy Faw (Breeder-Judge)